A daily probiotic & prebiotic for Kids.
Real Fruit, no added sugar.
Unlike regular gummies, our Whole Fruit Gummies have no added sugars or synthetics. Each gummy is made with real fruit plus prebiotics and probiotics. Nothing silly added. Read the ingredient list. See?
Plus, they're packed with researched-backed probiotics to restore your good bacteria in your gut and plant-based prebiotic fiber to feed the good bacteria to help it thrive. They work together for ultimate gut, digestive, and overall body health.
They're delicious too, so you don't have to wonder why healthy doesn't always taste good. Because now they do.
Happy Gut, Happy Life.
What's in:
Organic Apples, Organic Mangoes, Organic Peaches, Organic Baobab Fruit Powder, Less than 2%: Organic Extra Virgin Olive Oil, Apple Pectin, Organic Flavor.
Plus, Unconditional Llama Llove.
What's OUT:
Added sugar, syrups, sweeteners, synthetic vitamins, gelatin, artificial ingredients, and colorings.
DOSAGE:
60 bites to bite, chew, nibble, enjoy. 2 per day, please.
"Gee Wiz Joan, have you tried these new-age gummies? They're all the rage, and apparently CURE LOVE-SICKness*."
Overheard in an office somewhere.
*Not actually proven to cure Love-Sickness, but hey, it's worth a shot.
reviews from real HUMANS.
Customer Reviews
99
reviewers would recommend this product
Write a Review
Ask a Question
Filter Reviews:
kids
taste
ingredients
gummies
sugar
probiotics
multivitamin
Both
something
agony
I recommend this product
Happy pooping!
My 2.5 year old son has been constipated for a year. I have tried "ALL THE THINGS" and officially gave up a few months ago to give his little body a break. Then one day I got an Instagram ad (thanks, algorithm!) and reluctantly decided to try your product as my last resort. After 2.5 months of consistent daily use, I am finally seeing progress!! He now goes without being in total agony. There's a Facebook group of moms all in the same boat called "Parents Against Miralax Restoralax Movicol (PEG 3350)" and I posted my success story in there today, hoping your product might help some of those frustrated moms. Just wanted to say thank you and I'm so glad I found your product and took a chance on it! ❤
02/01/2023
Pamela J.

United States
I recommend this product
These have been a game changer!
My younger child has struggled with constipation for years, and the official treatment from her doctor was taking laxatives for months or years on end. Aside from being concerned about the long term effects of medicines, the laxatives also didn't solve the underlying problem. These gummies have changed all that! We no longer need laxatives, the gummies are healthy, and they taste great, too!
01/25/2023
Kiana E.

United States
I recommend this product
Kids Probiotic Gummies
The kids probiotic gummies were recommended by my sons naturopath doctor. They have made a huge difference in his health. No more constipation and stronger immune system! He loves the taste and asks for them every morning.
01/02/2023
NN

United States
I recommend this product
Will never be without these!
After being a fan of the kids multivitamin gummies for a while, I ordered these on a whim for my three year old. After just a few weeks I've noticed HUGE improvements. Before I started him on these probiotics, his #2s were never (and I mean NEVER) firm/formed- but not anymore! He was also very thin, and has gained noticeable healthy weight (!!!) I am genuinely thrilled with how well these have worked for my son and I'll always have them stocked at home.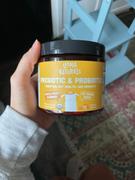 12/05/2022
Evelina K.

United States
I recommend this product
No more tummy aches
My daughter complained of tummy aches constantly so I tried different brands of probiotics and none of them helped except this one. Some we started there have been almost no tummy aches.